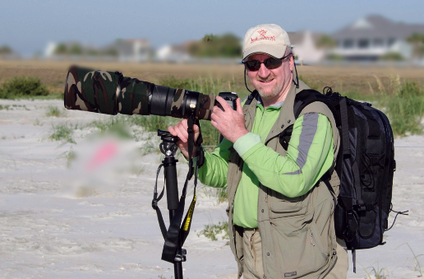 Here is a list of equipment I use for my Bird Photography.
Nikon 2 X D500
Nikon D7200
Nikon, D610
2 X D300s

Nikon 200 - 500mm f 5.6

Nikon 500mm PF F 5.6VR Lens
Nikon 300mm F4 VR (Mostly for flight photography)
Nikon 70 - 200 mm 2.8 (Mostly for flight photography)
Nikon SB600 Flash with Better Bemer extender (Note: I use a flash only when neccessary.)
Both Lexar and Sandisk Cards
Induro Tripod with a Benro Video Head
Fesol Monopod with Realy Right Stuff Monopod Head
David Is a full-time bird photographer working out of Oromocto, New Brunswick, Canada. David mostly photographs birds all over New Brunswick, but occasionally wanders to other parts of Canada.
David was the co-founder of the Calgary Camera Club and served as president for the first two years. David instructed the Basic Photography module for the club.
David has won many awards for his bird photography. The most recent Award was the winner in Nature Category at the Calgary Camera Club. David has run his own photography workshops for 15 plus years.
David's philosophy toward bird photography is, " The welfare of the bird must be a priority over and above the photograph".
The purpose of this website is to bring attention to the state of the bird populations through outstanding photography and great articles. Also, to show the general public the beauty and joy birds add to our existence as a human race. Without birds, our existence would seem meaningless.
Conservation and protection of the birds must be a top priority for all bird photographers. Ethical behavior around bird nests and their young will be beyond reproach.
David supports and donates to Birds Canada.
David maintains the Canadian Bird Photographer Facebook Page.
Email: dlillynb@gmail.com

Photo by Gabriele Ehnes-Lilly
Photo by Gabriele Ehnes-Lilly